What are PCR Films?
PCR means post-consumer recycled. This means that PCR films are made proportionately from the recycled plastic of discarded materials.
The recycled plastics are referred to as rPET (Recycled Polyethylene Terephthalate), rPP (Recycled Polypropylene Plastic) and rHDPE (Recycled High-Density Polythene).
These post-consumer wastes are collected from industrial and commercial facilities as well as households, and then converted into raw material by us for the production of PCR plastic.
tbs-pack's PCR recycled polyolefin films are versatile and can be used for almost any application, and are combined with other plastics for quality assurance, depending on the intended use.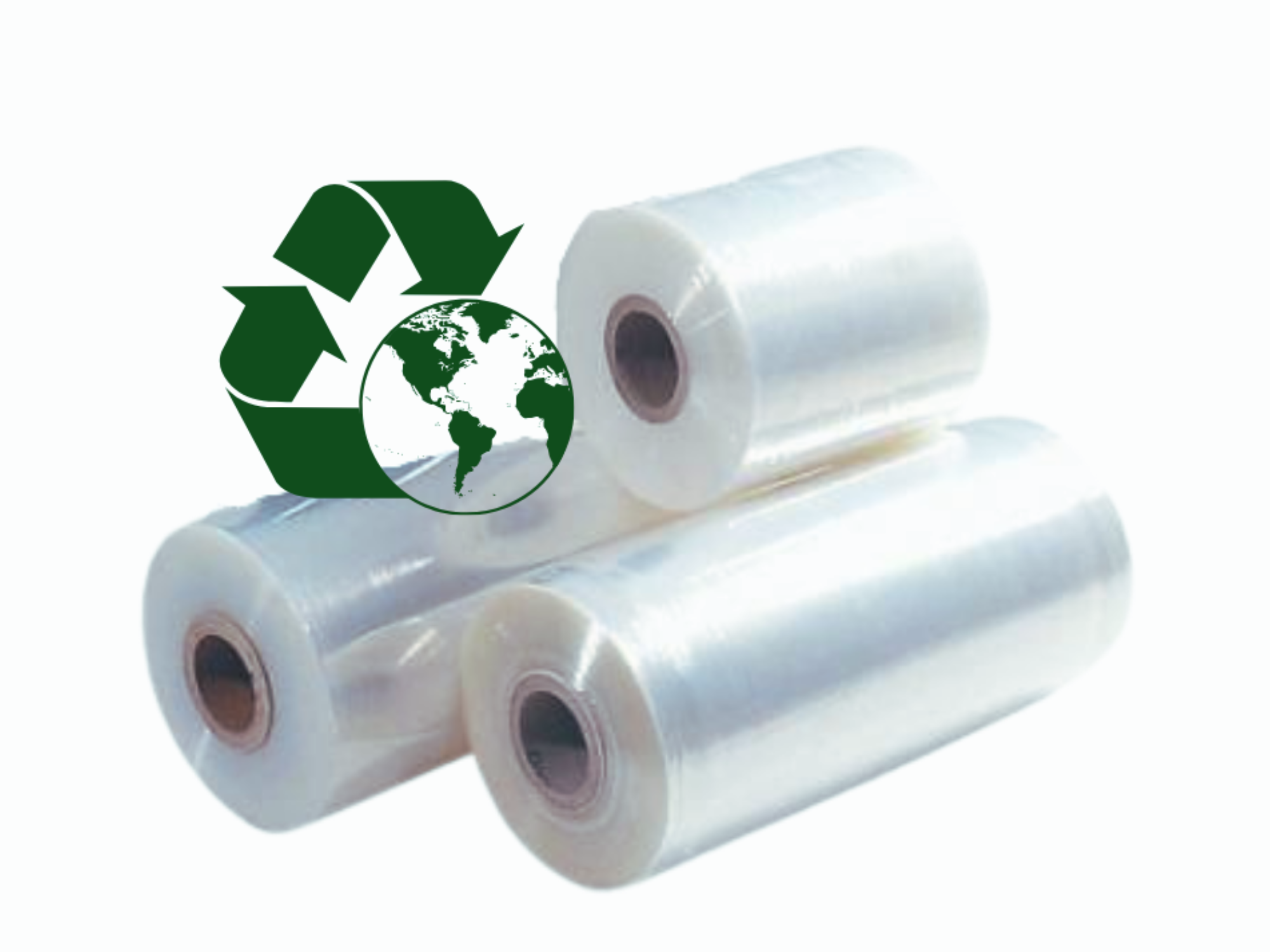 Let's go green! Send us an inquiry NOW and let our experts advise you!

How are PCR films manufactured?
First, post-consumer (after-use) waste is collected. Then the plastic is sorted, thoroughly cleaned and heated. It is then ground into PCR granules and then further processed by reheating to produce our high-quality PCR films.

Do you know our PCR Shrink Films?
Our range of PCR films currently includes the 5-layer cross-linked and highly transparent PCR fine shrink films, which fit around your product like a second skin and reliably protect it from external influences. The films not only have very good sealing and shrink properties, but are also a sustainable alternative to conventional shrink films. They can be used for packaging a wide variety of products such as bottles, trays, books, games and many more.
Depending on the requirements, PCR fine shrink films are available as flat films and half-tubular films. Furthermore, the films are available unperforated as well as micro- or macro-perforated and printed in up to 10 colors.
We have the right PCR film for every product!
Whether logistics packaging, protective packaging or sales packaging - we have the ideal recyclable PCR film for every product requirement!
Our packaging portfolio of PCR plastics includes:
Stretch films
Shrink sleeves
Sealing films
Tubular bags
bags
and much more
Our experts will be happy to help you find the ideal packaging for your requirements at info_at_tbs-pack.de.
What are the advantages of PCR recycling films?
By reusing plastic that has already been used, PCR plastics and films are not only more cost-effective but also reduce waste. In addition, we need less water, energy and fossil fuels to further process the used plastic.
Other advantages of PCR films from tbs-pack include:
Reduced CO2 emissions by up to 80%
Reduced amount of waste
The use of PCR plastics creates a circular economy

Can PCR plastics be recycled again? And if so, how often?
Since PCR plastics are recycled materials, they can in principle be recycled again - but this always depends on the use of the plastic. As a rule, PCR films can be reused between seven and nine times.
Any Questions?
If you are interested in our PCR films, have questions about our products or would like to receive advice from our experts without any obligation, please send us an inquiry at info_at_tbs-pack.de.
Our packaging experts look forward to hearing from you and to providing you with individual advice!