<! --/twrap -->
Do you already know Manuela, our Chief Happiness Officer?
"Wonderful good afternoon, this is Manuela! How may I help you?" - That's exactly how it sounds every day when our Chief Happiness Officer Manuela greets our customers on the phone. In addition to her work in Customer Care, where she always makes sure our customers are in a good mood and happy, our sunshine Manu also works in Active Sales and provides the whole team with tea, pudding or other treats on the side - and she's been doing all this for over 12 years now!
Our office dog Balou also loves Manuela's lunch break walks and creative treats.
We are so happy to have Manuela on our team! Thank you for your great work!
A truly strong team!
CEO Thomas Stumpp and Quality and Feel Good Manager Balou are a strong and well-coordinated team! Together, the two are currently preparing everything for Interzoo 2022 in Nuremberg - and Balou in particular attaches great importance to the highest quality and checks and sniffs our packaging samples with the utmost care, so that all Petfood articles remain fresh and crisp for a long time in their packaging. Why we are REALLY Petfood experts? Because we have a meticulous quality manager on four paws!

A look back with our former trainee Pascal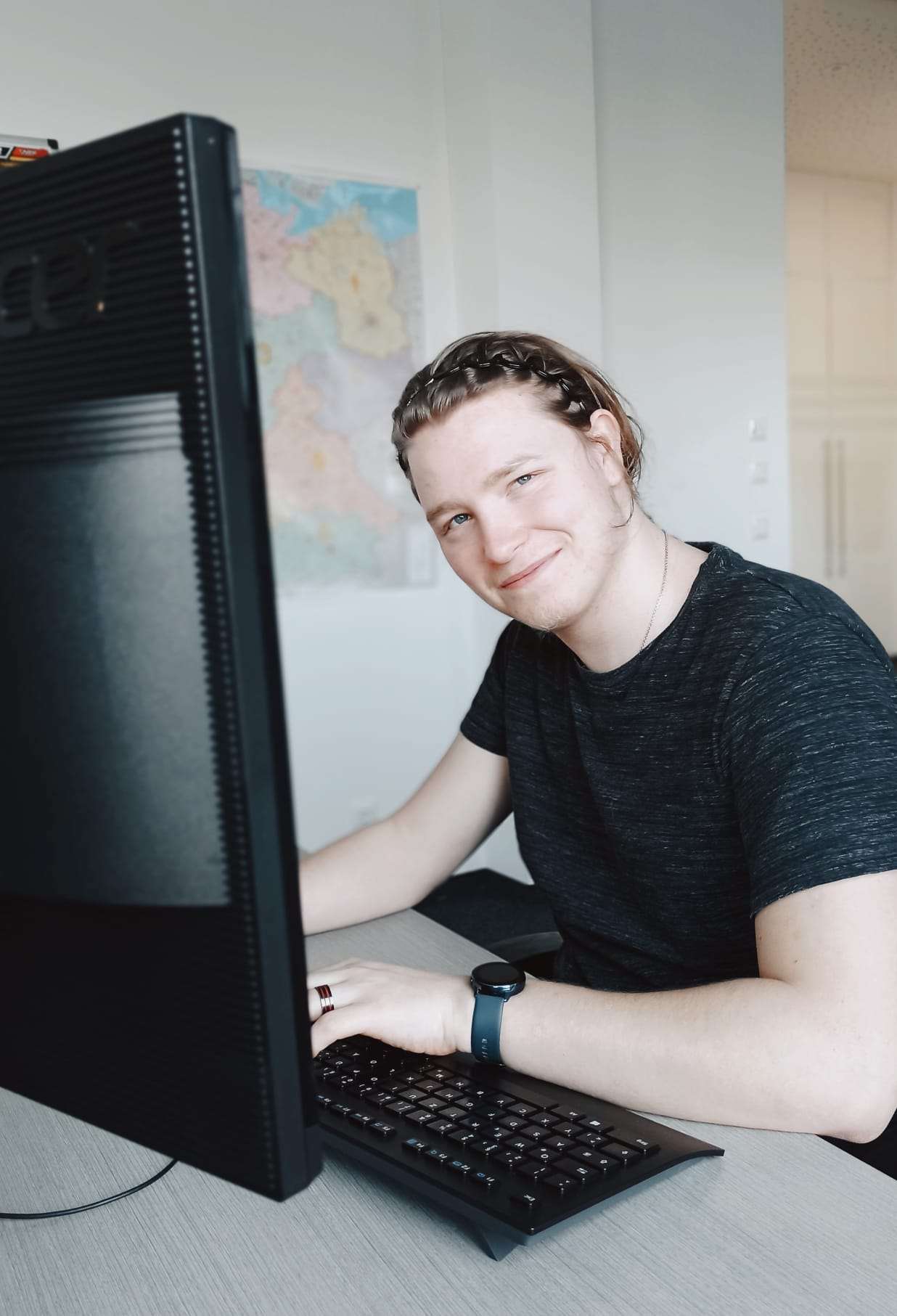 >>> What did you tell your parents about your first day of training after work?
Pascal: "The first thing I told my parents was that I was very warmly welcomed and directly involved in the daily work routine. So there was no boredom."
>>> What three things would you not necessarily have expected like this?
Pascal: "A really young team, optimal cohesion, table football and basketball hoop."
>>> What did you like best about your training?
Pascal: "I was an integral part of the team from day one. No matter whether I had questions, requests or problems - everyone always had an open ear for me! Those are two of the reasons why I stayed on after my training."
>>> What do you take away from your training?
Pascal: "That the training path to become a wholesale and export merchant is really varied. I was able to get a taste of many different areas and was directly integrated into all work processes. So I really learned a lot by doing!"
>>> Your tip for a prospective trainee?
Pascal: "Don't be afraid of new things! It's quite normal not to be able to do everything perfectly at the beginning! That all comes with time. And it's very important to simply ask if anything is unclear. Because if you don't ask, you stay stupid."
Do you already know Balou, our Feel-Good-Manager with cuddle factor?
Our most tousled colleague in the office with the "bow-wow"-effect: This is our Feel-Good-Manager Balou.
Our employees' dogs are always welcome in the office! Numerous studies have shown that the mere presence of dogs leads to a reduction in stress. Balou always manages to put a smile on our faces, even on stressful days. And of course our co-worker is rewarded for this with lots of treats and extensive cuddles.