Exhibitions in 2019
Previous exhibitions:
Sigep: 40. International exhibition for Gelato, Pastry, Chocolate, Bakery and Coffee. Stand 101 hall D7, Exhibition Center Rimini (Italy), January 19-23, 2019

Upcoming exhibitions:
FachPack: The European exhibition for packaging industry. Exhibition Center Nuremberg, September 24 - 26, 2019
FachPack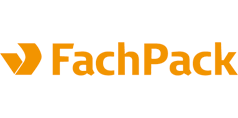 We are looking forward to welcoming you at our exhibition stand at the FachPack 2019!
Where to find us? Exhibition hall 4; stand 4-403
For tickets and e-voucher purchase, please contact us at info_at_tbs-pack.de.

We will present the following product innovations:

Shrink Tunnels for industrial products and food
Vertical and Swing Pillow Bag Machines for food packagings
Review: Tbs-pack at the Interpack Exhibition 2017

The Interpack Exhibition was a resounding success for us!
Jointly with our partner Alpha-Pack Europe, we succeeded in vividly presenting our innovative packaging machines to the numerous interested visitors at our exhibition stand which scaled 120m².
We kindly thank our numerous visitors and look forward to meeting you again at the upcoming exhibitions.

We are looking forward to your visit and to presenting you the following innovations:
RDM-8-BT (Rotary Doypack machine)
DPM-1BT (Static Doypack machine)
FWH-450 (Horizontal flow-wrap machine)
FWH 700 (Sealing machine film from below)
SBM-420 (Vertial sealing machine)
SBM-180 (Stick-Pack)
SWS-5020 + StA-4530 (Side seal packaging machine with shrink tunnel)
LWS-6148+STA-4530 (L-Type automatic sealing packaging machine with shrink tunnel)
Review: Tbs-pack at the Fachpack Exhibition Nuremberg 2016
The Fachpack Exhibition 2016 in Nuremberg was a complete success for our company! Our Nero-Pack packaging machines and our Castelli-Film fine shrink films aroused great interest among the numerous visitors at our exhibition stand.
We kindly thank all our visitors for the interest in our products and we are looking forward to the next upcoming events in 2017.