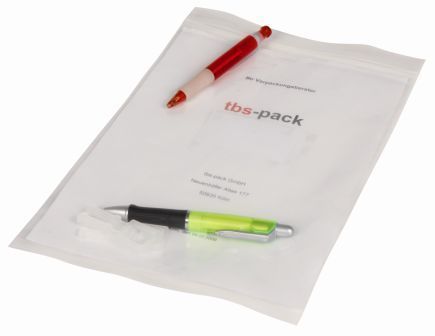 The dual chamber bag includes a zip-lock and an aditionally attached double chamber. Due to the separation of the double chamber, this dental bag ensures a clean transport of liquid goods with additional documents. The front chamber of our functional polyethylene dental bag prevents damage by liquids e.g when sending your accompanying documents or order documents.
Our dental bags at a glance:
Features:
bag dimensions without lock area
consisting of transparent or colored LDPE film
DIN A4 format
high safety standard, commonly used in hospitals
Potential Opening Widths:
80 - 400mm
Potential Film Thicknesses:
Dental bags: 50 - 150µ
Optional Production Possibilities
printable with your personal logo (in up to 8 colors)
available in different dimensions and colors
As a manufacturer, we have the opportunities to produce according to your individual ideas.
In case you wish a greater purchase quantity or a special production, we will be gladly calculating an individual offer for you.
We look forward to receiving your request at info_at_tbs-pack.de.
Our immediately available sizes and price information for small quantities can be found in our online shop at www.tbs-pack.de/shop.