Labeling & Sleeves
Find the right packaging machine for your product.
Which packaging matches your product?


Sleeve-Labeling Machines:
Products on supermarket shelves that have been labeled or customized using shrink sleeve machines have been proven to sell better than products without such labels. Our shrink sleeves are applicable to any industry and virtually any product.
Our state-of-the-art high-speed sleeve-labeling machines are manufactured to be water and rust resistant and can be used for a variety of products such as bottles. Our labeling machine reliably and fail-safe labels square, flat, domed and goblet-shaped bottles. In addition, our machine is characterized by its special flexibility, user-friendliness and long service life.
To enable a smooth and automated labeling process, our sleeve-labeling machines can be perfectly combined with our sleeve shrink tunnels.
>>> Click on the image to get more information about our sleeve-labeling machines.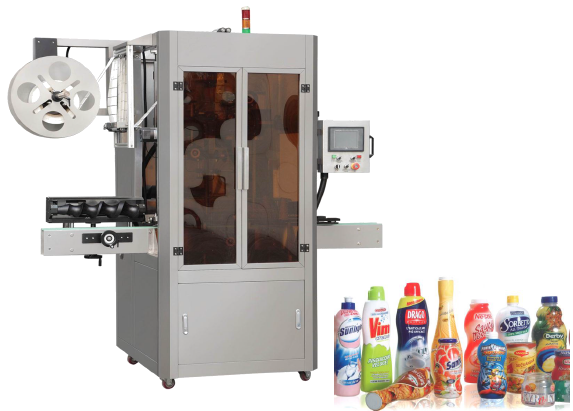 PCV / PET Shrink Sleeve Film:
Using our shrink sleeves, also known as stretch sleeves, you can present your products excellently. They are available as PET,PVC or OPS sleeves. Our shrink sleeves are particularly characterized by their highly sophisticated transparency. A distinction is made between cuts, rolled products and preformed shrink sleeves. We produce our sleeves with tear perforation and red-colored indication in order to ensure an comfortable opening for the customer.
Shrink sleeves are a smooth and agile packaging solution which clings variably to unevenly procured commercial goods. With our sleeves, you obtain originality and seal protection fuse for your products particularly in the food and beverage sector. Offering an elegant and stable outer shell that ensures stability for your products, our shrink sleeves which are mono-axially shrinking can be used especially for unstable or thin objects due to their high shrinking value.
>>> Click on the picture to get more information about our PVC/ PET shrink sleeve films or to make a product inquiry!