Protective and Bundle Packaging
Find the right packaging machine for your product.
Which packaging matches your product?


Bundling Machines:
Our bundling machines are used to combine particularly bulky or heavy items such as beverage cans or bottles into a sales or transport bundle. Our fully automatic bundling machines are therefore both a flexible and durable solution for bundling trays or beverage packs.
Thanks to the sensor-controlled work process and permanently heated welding, our bundle packers can also process particularly long products, such as panels, in shrink film packaging at high cycle rates.
The machines' user-friendly control panel also enables effective and easy handling. Our bundling machines can be adapted to different product properties and film widths in just a few steps. For this purpose, the sealing bar opens automatically and you have time to prepare the next article in the meantime. Our bundling machines are also compatible with all shrink tunnels.
>>> Click on the picture to get more information about our bundling machines.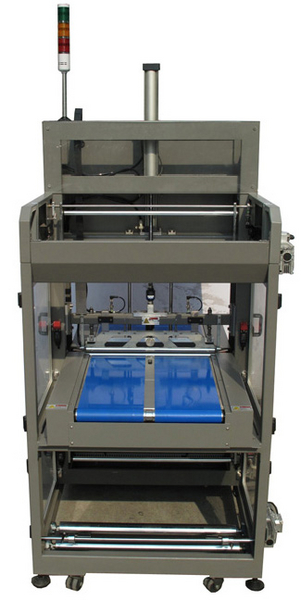 PE Shrink Films:
Shrink films are films that shrink under the influence of heat and fit tightly around the product to be packaged. This makes shrink films particularly suitable for storage and transport goods, as they provide ideal protection for the packaged products and protect them from weather conditions and external influences.
PE shrink films, which are made of polyethylene, are in great demand because the film feels thick and durable and is also very easy to process. They have excellent product properties: they have high puncture resistance, are not so soft and flexible, and can be well welded on almost all machines. Therefore, PE films are particularly suitable for bundling goods such as PET bottles or beverage cans.
Depending on your needs, we can supply you with PE shrink films in various sizes and designs. Whether needled, perforated, as flat film, semi-tubular film or tubular film - we have the right solution for your requirements!
>>> Click on the picture to get more information about our PE shrink films or to make a product inquiry!